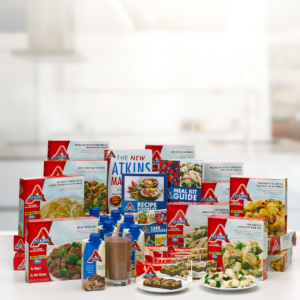 Atkins recently came into my life and I am glad I gave it a chance! I recently went on a mini vacay and when I arrived I was pleasantly  surprised to find this package at my door step. A bit scared everything had spoiled in this hot heat I frantically opened it. To my surprise everything inside was packaged in dry ice and was still cold and frozen. It was a pleasure being able to sample this amazing Atkin's package seeing as how I had tried diet after diet to get rid of this stubborn 10 lbs.
I was ecstatic to try this especially after my vacation (we all know how that goes). If you love to eat Chicken Alfredo, Beef Merlot, Crust less Chicken Pot Pie and still want to lose weight this diet is for you or should I say try this food because there is no way this can be diet food.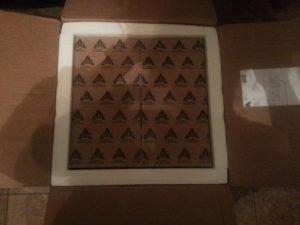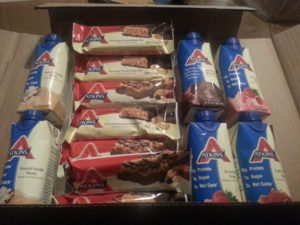 The shakes that arrived were Milk Chocolate, Strawberry, Cafe Caramel, Vanilla and Dark Chocolate. I must say I was not disappointed all five flavors were delicious and filled me up completely. They made me feel powered up perfect for a pre or post workout snack. Also noticed and appreciated that they didn't have that fake sweet taste that a lot of the shakes I have tried in the past seemed to have.
Included in this package were Chocolate Chip Granola bars and Chocolate Peanut Butter bars. I absolutely loved the Chocolate Chip Granola bar but the Chocolate Peanut Butter bar was too sweet for my taste. These are filled with protein and are sure to crush any sugar cravings you may have. Before I sampled this I had heard a lot of people say you must stay away from any sweets while on the Atkin's Diet which surely is a myth considering these to die for bars are included in the package.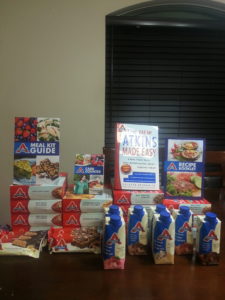 In the box I also found delicious quick microwavable meals. From all the hustle and bustle of every day life you will surely appreciate these quick to make meals. Why grab a greasy burger or nasty chicken (is it really) nuggets when you can sit down and enjoy Roasted Turkey with Garlic Mashed Cauliflower. I received the following meals:
*Beef Teriyaki Stir Fry *Chicken and Broccoli Alfredo *Roasted Turkey with Garlic Mashed Cauliflower *Meatloaf with Portobello Mushroom Gravy *Mexican Style Chicken and Vegetables *Beef Merlot *Chile con Carne * Beef Fiesta Taco Bowl *Crust Less Chicken Pot Pie * Farmhouse Style Sausage Scramble * Bacon Scramble *
In all truthfulness each but one meal tasted amazing. I couldn't finish the Beef Teriyaki due to this unusual smell and taste. Also may I add to really fill up I did include extra veggies or a side salad with every meal. When I started this "diet" I was 142 lbs and now two weeks later I am weighing in at 135 lbs. All I can say is Atkin's  is Awesome! Don't be scared to try this out because you will not be disappointed.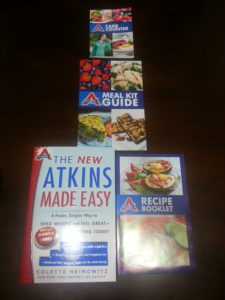 Also included in this package is the NEW Atkin's Diet book filled with plenty of great information and insight to how the Atkin's Diet works.  The book also has plenty of easy delicious meals you can make at home. You will also find a convenient carb counter included which is very helpful with keeping up with how much carb intake you get through out the day.
One last thing that excited me was on Atkin's you can eat cheese!!!!!! It's the little things that count am I right! Especially when you are a huge cheese lover as myself. Conclusion this is defiantly a must try you will not be disappointed.
Frozen Foodie Meal Kit ($69.99) Ideal for people who are to busy to cook full meals, require minimal time in the kitchen.  This kit feature a variety of Atkins to simplify options for breakfast, lunch and dinner.
Evening Chef Meal ($89.99) Designed for the consumer seeking convenience during the day, but wants to prepare their own meals in the evening. The kit includes Atkins Frozen Meals, Snack Bars and shakes to cover breakfast, lunch and snacks, with recipes and recommended shopping list for low-carb dinners.
Easy Peasy Meal Kit ($97.99) The most comprehensive kit with all meals included, and consumers make their snacks side dishes. The kit includes a variety of Atkins Frozen Meals, Meals Bars and Shakes to cover breakfast, lunch and dinner.
  Atkins social media channels.
@AtkinsInsider- Twitter @AtkinsInsider – Intagram @AtkinsDiet – Facebook
This post was sponsored by the Role Mommy Writer's Network.
Consumers may order Atkins Meal Kits at Atkins.com, where they can receive free support from nutritionists, access educational materials and share insights from their personal weight-loss journey with members of the Atkins community. In addition, all plans come with the Atkins Meal Kit Guide, The New Atkins Made Easy book, the Atkins Carb Counter and the Recipe Booklet.
About Atkins Nutritionals, Inc.
Atkins Nutritionals, Inc. is the leading low-carb program for consumers looking to achieve a healthy lifestyle. From weight loss and maintenance to improved overall health, Atkins offers the tools and education needed to help consumers eat a balanced diet with reduced levels of refined carbohydrates and added sugars, and rich in protein, fiber, fruits, vegetables and good fats. Its extended portfolio of products, ranging from frozen meals and nutrition bars to shakes and snacks, provide convenient low-carb solutions to help the body burn more fat and work more efficiently, while keeping consumers satisfied and energetic.
Backed by more than 80 published scientific studies and consumer success stories, Atkins is a long-term, well-balanced program that appeals to a broad audience of men and women who want to achieve their weight management goals and enjoy a healthier lifestyle. Atkins products are available online at Atkins.com and in more than 50,000 locations throughout the U.S. and internationally. To learn more about Atkins, visit Atkins.com.