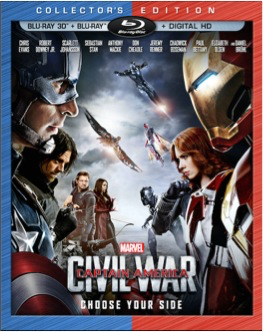 Captain America Civil War DVD is set to release September 13th and we all know that everyone is ready to get their hands on the Blu-Ray! Fear not though as we have you covered! We will be giving away a Captain America Civil War Prize Pack to 10 of our readers! That's right 10!!!
CAPTAIN AMERICA CIVIL WAR starring Don Cheadle, Anthony Mackie and Chadwick Boseman, will be hitting a store near you September 13th.
In advance of the DVD/Blu-ray release, we've pulled some behind the scenes assets and hope you'll enjoy them as much as we did! The Blue Ray DVD is jammed packed with behind the scenes clips like this one!
Lets not forget the Gag Reel Bloopers!!

10 Winners will get the following!!!
1 – Captain America Civil War Blu-Ray DVD
1 – Captain America Civil War Poster
1 – Captain America Civil War Button
In order to enter this giveaway, enter #Captain America Civil War HHFC on the comment section below!
For added entries share this giveaway along with #Captain America Civil War on your twitter and Facebook pages and tag us in it!#HipHopFirstClass
• Giveaway will end on September 13th , 2016 at 9 PM CST.
• Winner will be selected using a random number generator. You'll be contacted by email.
• All entrants must be U.S. residents, ages 18 years or older, and must provide a valid email address
• No Post Office Boxes or International addresses .
• Winner have 24 hours to claim their prize, otherwise the prize will be re-awarded.
 DVD is on sale beginning 9/13.
HipHopFirstClass hooks you up with First Class Style! 🙂