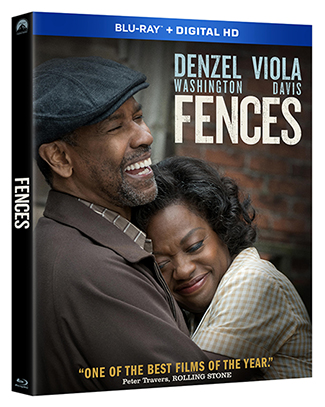 Fences DVD is set to release March 14th and we all know that everyone is ready to get their hands on the Blu-Ray! Fear not though as we have you covered! We will be giving away a Fences DVD to 15 of our readers! That's right 15!!!
Adapted by legendary writer August Wilson from his own renowned play, FENCES follows former Negro-league baseball player Troy Maxson (Washington) in 1950s Pittsburgh as he fights to provide for those he loves in a world that threatens to push him down. An unforgettable and timeless masterpiece,FENCES "connects with people on a deep, emotional level" (Glenn Whipp, Los Angeles Times) and pulses with the universal truths of love and forgiveness, despite what lies beyond your own fence. 
Blu-ray Features
Feature film in high definition
Bonus Content:
Expanding the Audience: From Stage to Screen
The Company of 

Fences

Building 

Fences

: Denzel Washington
Playing the Part: Rose Maxson
August Wilson's Hill District
15 Winners will get the following!!!
1 – Fences Blu-Ray DVD
In order to enter this giveaway, enter #Fences HipHopFirstClass on the comment section below!
For added entries share this giveaway along with #Fences HipHopFirstClass on your twitter and Facebook pages and tag us in it!#HipHopFirstClass
• Giveaway will end on March 17th , 2016 at 9 PM CST.
• Winner will be selected using a random number generator. You'll be contacted by email.
• All entrants must be U.S. residents, ages 18 years or older, and must provide a valid email address
• No Post Office Boxes or International addresses .
• Winner have 24 hours to claim their prize, otherwise the prize will be re-awarded.
DVD is on sale beginning 3/14.
HipHopFirstClass hooks you up with First Class Style! 🙂