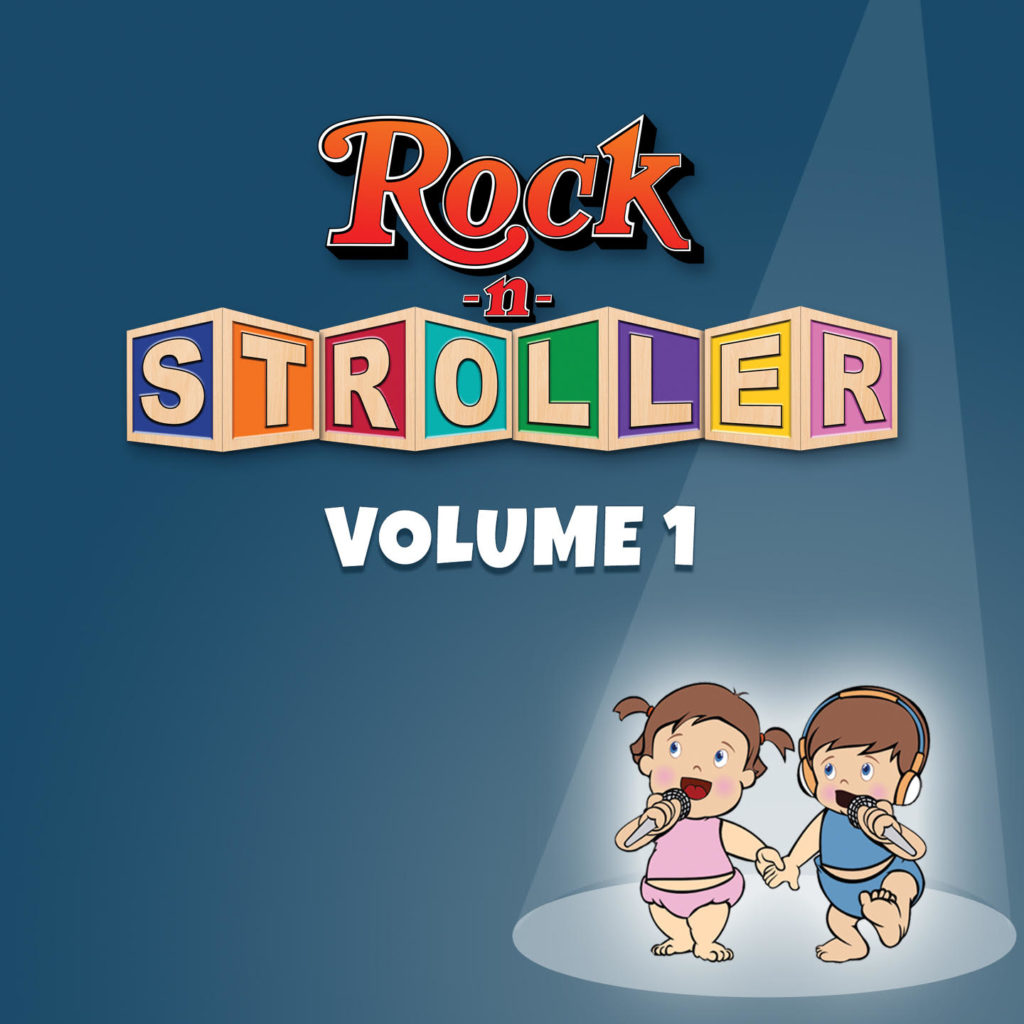 Rock N Stroller – The title of the newest CD that will change you and your toddlers sing duets for days to come! Gone will be the days of boring sing along songs that get way too repetitive and now enter a new era with energy packed songs that are sure to bring out your best American Idol performance!
Introducing Rock-n-Stroller – Featuring Classic Rock and Pop Songs For Kids that Parents will Love and truly appreciate!
 Rock-n-Stroller is a multi volume CD collection produced by Grammy award-winning producer Andy Zulla and award winning recording artist and Broadway performer Matt Zarley which brings back classic songs from the 70's and 80s in a style that will get kids of all ages singing along to their parent's favorite tunes.
Rock-n-Stroller Volume I, currently available on Amazon and iTunes, features some of the greatest hits of all time like Don't Stop (Fleetwood Mac), I Wanna Dance with Somebody (Whitney Houston), Sweet Dreams (The Eurythmics), and Start me Up (Rolling Stones) all performed by talented young singers.  Rock-n-Stroller Volume II which debuts September 8, will feature pop and rock favorites like Here Comes the Sun (The Beatles), Surfin' USA (Beach Boys), Dancing Queen (ABBA), I Love Rock and Roll (Joan Jett and The Blackhearts), We Belong (Pat Benatar) and Sweet Child O' Mine (Guns n' Roses), and many more!
I've personally had both volumes introduced to my daughter for our first sing alongs and both her and I absolutely love them!
Not only that, I was able to share my generation of music with her and she absolutely loved it.
The Rock-n-Stroller Volume I CD is available for download on iTunes or on Amazon for $9.99 or $8.99 as a downloadable MP3.  Rock-n-Stroller Volume II will be available for sale on Amazon and iTunes September 8, 2017.
About Rock-n-Stroller
Rock-n-Stroller was created by Matt Zarley and Andy Zulla. ​After enduring endless hours of listening to kids sing the latest top 40 tunes on any of those popular kids cover song CD's, Andy says he and Matt had an idea.  Wouldn't it be awesome if these songs (that kids love to sing incessantly), were the songs that we actually wanted to hear?  And with that question, the concept of Rock-n-Stroller was born.
Rock-n-Stroller picks up where those other CD collections left behind…classic, timeless songs that are beloved by generations.   The first album contains 10 classic hits from the 70's and 80's like Into the Groove, Take on Me, and I Wanna Dance with Somebody. The tunes are rock  and pop hits that are re-recorded by talented young artists. The result is a sound that young children and parents will want to sing-along to again and again. The second album continues where their first CD collections leaves off, with timeless pop and rock songs originally performed by artists like Elton John, The Beatles, Huey Lewis and ABBA and more.
867-5309 / Jenny

Don't Stop

Into The Groove

Don't You Forget About Me

Take On Me

I Wanna Dance With Somebody

Sweet Dreams (Are Made of This)

De Do Do Do, De Da Da Da

Start Me Up

Baby Love
Rock-n-Stroller Volume II
Boys of Summer

Sweet Child of Mine

Surfin' USA

Dancing Queen

Rock this Town

I Love Rock & Roll

Heart of Rock & Roll

Here Comes the Sun

I'm Still Standing

We Belong
For more information, visit www.rock-n-stroller.com.